Why Digital Doc Technology?
Why Digital Doc?
You may have come across many companies in your search for potential suppliers of digital dentistry equipment for your dental practice. Additionally, you may be wondering why you should choose Digital Doc over another manufacturer. Read on and see for yourself what dental care professionals and the team behind Digital Doc have to offer.
Digital Doc Intraoral Cameras Drive Patient Engagement
Grant Olson, DDS (Springfield, MO-Innovative Dental): "I don't know whether you have ever sat in a room trying to talk with somebody and they are just not engaging with you. It's hard enough because it seems they don't care. I'm assuming all the patients care about their smile and their teeth. The reason they are not engaged is that they don't understand."
With an intraoral camera from Digital Doc, you will have the means to engage the patients. This is because you can show them the images of what you are seeing in their mouth and discuss those images in a collaborate way aimed at getting agreement regarding the needed treatment.
Ian Weir, DDS (Ford Village Dentistry-Oakville, ON Canada) agrees saying, "A cracked tooth on a photograph that big…if they can see it, they will believe it." He adds that, "When they leave, the likelihood that they will come back and fix it goes up greatly when we actually have that real belief that comes from photos to a professional diagnosis."
Dental Cameras Transform Practices
Mark E. Hyman, DDS (Greensboro, NC) says, "My dental world changed in 1991 when I started working with intraoral cameras. We booked eight crowns. So what do you think I went and did the next day? I bought more cameras!"
This is clear proof that acquiring the best intraoral cameras from Digital Doc has a positive effect on the bottom lines of dental practices.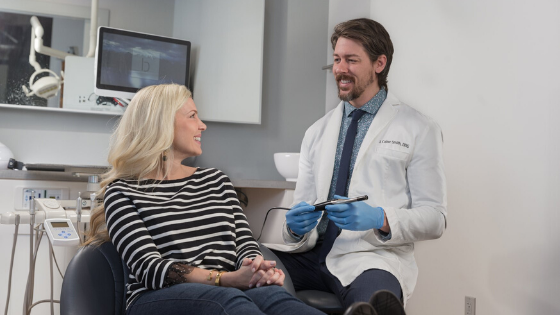 Sharing Dental Cameras is Not Practical
Wouldn't having just one intraoral camera in each dental practice suffice? Unfortunately, this isn't the case. The demands of daily work in dental offices makes it difficult for multiple professionals to share one camera.
This is because sharing a camera is inconvenient since you may want to use the camera but another professional is still using it in another room. Tyler Shoemaker, DMD (Smiles Dental Group, Vancouver WA) puts it excellently when he says, "Everyone in the industry thought maybe if you got one camera in your office you're gonna be fine. We just found that it just doesn't happen."
Brett Wilson, the President of Digital Doc agrees. "The idea and the theory of sharing cameras has been around a long time, and it is neat in theory but it's not practical."
Emphasis on Customer Support
"It's not just a transaction to us. It's not a here's a camera, good luck with the camera!" Brett Wilson, President (Digital Doc)
One of the biggest reasons why you should select Digital Doc products is that the acquisition of the dental technology is just the beginning of your relationship with us. We offer unparalleled support to our customers on an ongoing basis, so they learn to see us as partners.
Our commitment to great customer service goes starts with our customer interactions. We ensure that any calls made to us are answered by a human rather than a robot. Dave Wilson, one of the owners of Digital Doc, puts it best saying, "How many times do you call somebody today and get the phone answered by some type of system? At Digital Doc, we will never allow that."
Time-Saving
Doctors are telling us they are able to see things you just can't see on a traditional x-ray. The XTG handheld x-ray drives patient experience and reduces a full mouth series, in terms of time, by half. This time savings makes it worthwhile to add the XTG, even if you already have an x-ray in every room. 
At Digital Doc, we fiercely implement a culture of excellence. We know that you would like to uphold excellence at your dental practice as well. That is why we invite you to partner with us as your provider of digital dental equipment, such as the best intraoral cameras, handheld dental x-ray devices, LUM transillumination devices and all accessories needed to get optimum value from our products. Contact us today and let's discuss how we can be of service!
Watch our Why Digital Doc Technology video to learn more.