Benefits of a Dental Sensor
5 Benefits of a Dental Sensor
5 Benefits of a Dental Sensor: Blū By Digital Doc
Dental x-rays are an essential part of routine dental exams. Not only is it important to examine the external areas of teeth, but it's important to examine the internal areas as well. There is no denying that traditional dental x-rays have helped many people. However, advancements in technology have allowed engineers to create products that provide instant, HD digital imagery. Going digital can take your practice to the next level, but what exactly are the benefits of a dental sensor? 
1. High-Resolution Imagery in Your Office
Dental technology bridges the gap between doctors and patients. How so? By providing crystal clear imagery, you can show your patients the problem rather than tell them about the problem you see. It's hard to say yes to expensive procedures when the problem isn't apparent in low-quality imaging. The HD imagery of Digital Doc's Intraoral Dental Sensor–Blū–will support your prognosis and justify your treatment plan. 
2. Increase Efficiency
The x-ray portion of a routine exam can be the most time-consuming part of the process. With intraoral dental sensors, minimal setup and minimal adjustments are required. This decrease in setup time increases overall office efficiency and allows you to spend more time on what actually matters: the patient. 
Traditional dental x-rays take several minutes for the image to develop. An intraoral dental sensor allows you to capture an image and produce it within seconds. Even Dr. Ben Kacos, a dentist in Shreveport, LA, agrees that this saves the dental offices and patients valuable time. For example, if retakes are needed, the dental provider will know right away. In some traditional x-ray cases, the provider won't know retakes are needed until after the patient has already left the examination room. Saving time is important for dental offices AND the patients! 
3. Decrease Patient Radiation Exposure + Reduce Your Waste
It's not a secret that x-rays expose patients to radiation. Dental sensors take away 70% of this risk. With digital dental sensors, you no longer need radiographic film or processing solutions. The processing solutions are harmful to the environment, and the film can be wasteful. At first, dental sensors seem costly, but in the long run, eliminating the needs for traditional x-ray materials and the disposal fees that come with it saves dental offices time and money.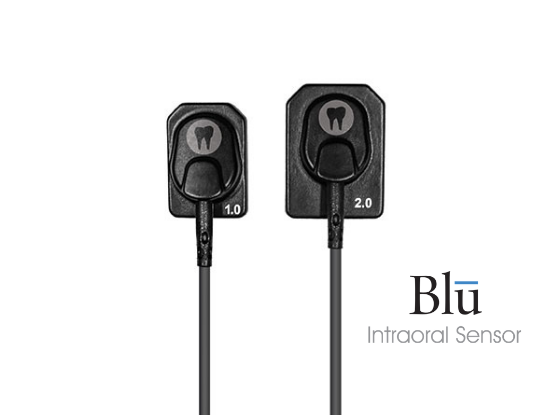 4. Comfortable, Portable, and Durable
Traditional x-ray methods can be uncomfortable for patients. Not to mention traditional x-ray machines take up a lot of space. Digital Doc's Blū Intraoral Sensor comes in the perfect size, making for the best patient experience possible. When purchasing your Blū Intraoral Sensor, you can choose from a 1.0 and 2.0. Each sensor is about 4.8 mm thick, with the dimensions of 31.3 mm X 42.9 mm. 
5. Digital Doc Support
As an industry leader, it's our job to provide you with high-quality products and premium support. Implementing your new dental sensor will be easy with the help of Digital Doc Support. Our virtual training will teach everyone how to maximize these benefits in your office. If you have any questions or concerns about your Digital Doc products, you can always count on us. 
Blū with Digital Doc
At Digital Doc, we design products with the dentist and patient in mind. Not only do we create easy-to-use products, but we create products that produce easy-to-understand imagery. 
The Blū intraoral dental sensor exemplifies these design principles. Our talented team of engineers created a product that can bring your practice to the next level. Don't believe it? See for yourself and schedule a free virtual demo today.