Technology For Your Dental Start-Up
Your Dental Start-up With Digital Doc
As a dental practitioner, you understand how important it is to have the right equipment and technologies in your office. With so many options on the market, it can be difficult to know where to start. However, there are some steps you can take to ensure that you make the best choices for your practice. First, take the time to research the different options available for technologies like Intraoral Cameras. Pay attention to camera reviews from other dentists, and look for dental technology products that have been independently tested and proven effective. Second, consider your budget and decide which features are most important to you. We all know the saying, "you get what you pay for." and in dentistry, cheap is not always the way to go. Finally, don't be afraid to ask for help from experts in the dental industry. By following these steps, you can be confident that you're choosing the best equipment and technologies for your digital dental practice. In this post, we are sharing how Digital Doc helps you with some of the best advancements for your dental start-up.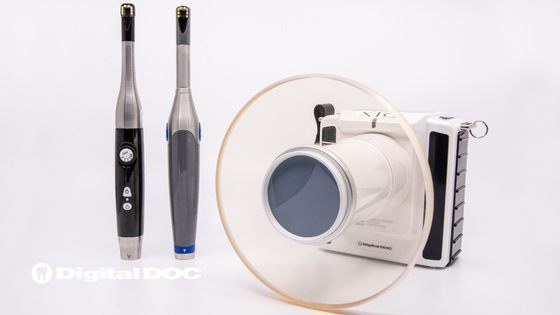 Digital Doc XTG Handheld X-ray
Portable dental x-ray systems are becoming increasingly popular as they offer significant advantages over traditional x-ray machines. They are much lighter and can be easily carried from room to room, making them ideal for busy dental practices. In addition, Digital Doc XTG handheld x-ray machines produce high-quality images that can be easily downloaded easily into most dental software systems. One issue that has been raised with any x-ray machines is the risk of radiation exposure for our patients. Although the risk is relatively low, it is important to follow safety guidelines when using these devices. With proper training and precautions, handheld dental x-ray systems can be safely used in any dental practice. When you choose DigitalDoc, we offer personalized training for your staff to make sure everyone who will be using the XTG handheld x-ray is able to use the device properly. 
Intraoral Cameras For Every Treatment Room 
Intraoral camera images are an important part of a dentist's day-to-day routine. When images are taken with each visit, it's important that your intraoral camera is compatible with your dental software. The photos, for example, can be transferred straight to a patient's digital file. Dr. Herko, a dentist in New Providence NJ, explains that it is critical to back up the patient records and saved in an offsite location. Backing up the photos helps to ensure that they will not be lost if there is a problem with the primary storage system. In addition, it is important to save the images in a format that can be easily accessed by all qualifying members of the dental team. By following these simple guidelines, dentists can ensure that the X80 intraoral camera images are properly saved and categorized for easy retrieval when needed.
Dental Sensors From Digital Doc
Early detection is key when it comes to oral health. That's why having a reliable and high-quality dental sensor is essential for any practice. The new dental sensor from Digital Doc is one of the best on the market, offering a number of features that will take your practice to the next level. The sensor is extremely sensitive, making it easy to detect even the smallest cavities or cracks. In addition, the sensor is able to generate extremely detailed images, which makes it easier to diagnose and treat problems. The dental sensor from Digital Doc is a powerful tool that can help your practice provide the best possible care for your patients.
Contact Digital Doc 
At Digital Doc, we believe that dental technology should be easy to use and accessible to everyone. That's why we offer a wide range of dental products that are designed to make dental practice easier and more efficient. Whether you're looking for a new XTG handheld x-ray machine or you need to upgrade your existing intraoral camera, we can help you find the right solution for your practice. Contact us today to learn more about our products.