Dental Sensor Purchasing Tips
What You Need To Consider Before Purchasing Dental Sensors
Dental sensors are an essential part of any dentist's toolkit. These small devices are used to take high-resolution images of the teeth and gums, helping to perform a more accurate diagnosis and plan treatment accordingly. It is important to keep a few key considerations in mind when purchasing dental sensors. First, you will want to make sure that you choose sensors that are compatible with your imaging system. You should consider factors such as sensitivity and resolution limits, as this can affect the accuracy of your diagnostic images. Finally, be sure to choose a reputable vendor from whom you can purchase your dental sensors. With these tips in mind, you can select the right digital dental sensor for your practice and ensure that you are providing the best possible care for your patients. With these dental sensor purchasing tips, Digital Doc can help you with purchasing your dental sensors.
Sensor dimensions
When purchasing the best dental sensor, size is an important factor to consider. Thick and unwieldy sensors are difficult to fit within the patient's mouth, increasing discomfort. Patients with smaller jaws or anatomical differences benefit greatly from sensors with a thin body. Some sensors feature rounded edges to increase patient comfort and sensor location.
Buyback Guarantee 
Most sensors come with a manufacturer guarantee covering any manufacturing flaws. Next, ask about our buyback guarantee.  Verify the replacement sensors' warranty coverage and cost, and their condition. New sensor life is reduced.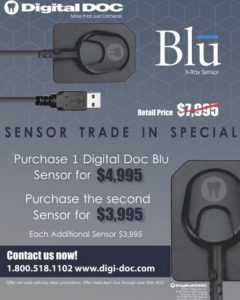 Technical help
When things don't go as expected, your sensor or imaging software queries arise. So, before buying a sensor, inquire about the company's support plans. Companies usually charge a monthly or annual fee. However, be wary of firms that demand a fee for each sensor purchased. It's best to pay a fixed cost for all sensors. Some firms even offer free help for the first year when you need it.
Aesthetics
Image quality is a good indicator of a sensor's utility as a diagnostic tool. But, how can you judge whether the image is good? The resolution is poor if an X-ray seems grainy and pixelated when zoomed in. Two factors affect the sensor's ability to output high-quality X-rays.  Also, some sensors are intended to function with most imaging software, while others only work with the sensor's imaging program. The sensor's active imaging region is also commonly disregarded. The active imaging area is the sensor's capture area divided by its size. It's vital since a smaller active imaging region might overlook certain features like a tooth's peak.
Conclusion
You may make an informed choice after carefully examining all of the above characteristics and any other requirements your practice may have. Before buying, investigate whether the firm offers a free trial to test the sensor's performance. Knowing which sensor suits your practice allows you to focus on what matters most, patient care. Contact Digital Doc today and we will explain everything you need to know.