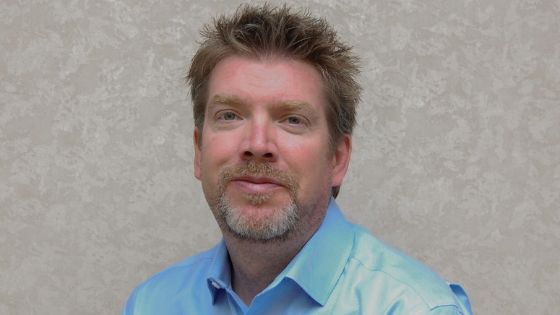 In honor of Digital Doc's 20th Anniversary, we're featuring some of our team's finest. We interviewed John Sellers, the Executive Vice President at Digital Doc, to discuss some his journey with the company. For more information about Digital Doc's team or Digital Doc products, please contact us today!
Journey with Digital Doc
John's first day was October 22nd of 1988, and he was only twenty-three years old. John was hired as a Design Engineer out of Denver, Colorado, and has been with Digital Doc for twenty years. Today, John holds six years with the company as the Executive Vice President. His many years of experience provides a unique perspective to his role as a leader. John runs everything in Digital Doc's marketing, works with the sales team quite a bit, manages his team inside the office, and still works on some engineering and design. If you're not impressed yet, you'd be pleased to hear that John helped design many of  Digital Doc's products.
One of John's many responsibilities today is being in charge of Digital Doc's marketing. He divides marketing into two parts – Grenade Marketing and Buzz Marketing. John designs Digital Doc brochures, and with Grenade Marketing, you just hope to bump into somebody and get them interested. For Buzz Marketing, they bring Dealer guests out to the company, train them on the product and introduce them to the culture and peoples that make Digital Doc who they are today. The guests take this message home and help grow the Digital Doc brand.
John is also responsible for much of the liaison between the inside office and sales. So, because John worked in both realms, he's a very effective communicator with the engineers and sales teams. John follows the principle of "move like liquid." He's your go-to-guy when you need something done.
John also works with Jim and Shawn to project manage all new designs coming out. The team's role is in research and development of  Digital Doc's new products. John worked closely with Jim Schmied and the Owner David Wilson to come up with the idea of building the LUM sub-enamel Illumination product. John keeps the company moving forward in the right direction.
Outside of Digital Doc
John and his wife Lara have been together for 28 years now and John said that Lara has been a huge part of his motivation and strategies to help keep the company growing, In John's free time, he likes to cycle. He says it keeps him healthy, it's good exercise, and it's cheaper than therapy. John averages about 50 miles a week riding in the Placerville area. Those two hours of cycling is his time to decompress and let go for the day. John said that during the 20 years of managing people, he found that if they have continuity and happiness at home, it makes them a better employee when they're here. John also enjoys and fly fishing – anything outdoors. A good balance in life is so important.
Personal Growth & Growth as a Company
Since John started at the age 23, he's acquired the experience equivalent to two PhDs. John is proud of the fact that he's learned not only in the industry itself but who Digital Doc is as a company. From answering the phones to launching products, John has tried really hard not to have a weak point in his business acumen. If he found that he wasn't good at something or didn't understand it very well, he focused more time on it. Overall, John is proud of his bird's eye view of how the industry works and how to manage people, personalities, products, and timelines that all just come together. John's spent a lot of time learning how it all works but feels that there is so much to still learn.
John is very proud of the evolution of the company itself. Digital Doc is not a policy-driven company, but a company that four or five people can sit down in an office and make decisions that could change the whole trajectory of the company. John is proud that Digital Doc has stayed small enough to be versatile but big enough to impress our customers. A lot of guests come to visit Digital Doc, walk through the doors, and say, "Oh my gosh, I thought you guys were ten times as big." It makes him proud because that means the company's phone presence, social media presence, and tradeshow presence is excellent.
How Dental Technology Has Evolved
About twenty years ago, many of us used prototypes like 3D printing and stereolithography, which seemed like magic back then. John would have to drive 300 miles to a facility to grow a prototype, and it would cost twenty-five thousand dollars. Now, Digital Doc has one in Jim's office. Prototype technology has been amazing.
However, John says that it's not dental technology that they've had to wrap their heads around. It's understanding that consumer changes over time. Digital Doc originally sold to Baby Boomers and now they're selling to Millennials. Times have changed and the whole idea of "what got you here, won't get you there," couldn't be more exact. There is a generation of buyers now that are as educated as any dealer out there. Meaning, customers have done the research, they know what they want and why they want it. As a company, they've kind of moved away from educating customers as to why they need a camera. Now they help them decide on which camera they need.
John has had to change his marketing and grow and change products to compliment the customer's needs. Ten years ago, image quality was the most important thing. Today, it's ease of use. Elon Musk said, "If your product needs a manual, it's broken." Meaning, you need to have intuitive products that people can pick up and use.
What Separates Digital Doc From Similar Products
John explained that at trade shows, people would often come up to him and ask him why Digital Doc products are better. He usually says, "Because of Jim, Shawn, Erin, James…" They'll look at John confused, and he'll explain that if you buy with Digital Doc, you're not only investing in the product but the support behind the product. Digital Doc doesn't just hand you a camera and say here you go. Digital Doc shows you how to use it and how you can increase your profitability. You get customer service of a company that answers every phone call live! Digital Doc will never have a phone tree. When you invest, you get the dedication of a tech support team that has a combined experience of thirty years.
Tips for Dental Offices & Teams
John's number one tip is to use your camera every day on every patient. When they see cameras that don't realize their potential in offices, it's because there's only one camera in a nine operatory office. It becomes a gimmick because no one ever seems to know where the camera is, and then team members go along with their exam without using it. Offices that really excel have intraoral cameras in every room. That's when you realize the intraoral camera's full potential.