Have You Tried Our IRIS X80?
Product Feature: Have You Tried Our IRIS X80?
In the world of intraoral cameras, Digital Doc's IRIS X80 is one of the best in its class. If you are a dentist who would like to take efficiency, patient experience, and dental diagnostics to a whole new level, this intraoral camera is for you. In this article, we explore how some of the camera's most sought out features can work best for your dental practice.
The Features That Make the X80 Truly Remarkable
Liquid Lens Auto Focus.  As a dentist who is serious about your work, you want intraoral images that are sharp and clear so that you can make the correct diagnosis. The IRIS X80 gives you just that while taking the extra work of focusing the camera. An internal computer automatically focuses where you point the camera, and all you have to do is press the capture button and bingo, you have crystal-clear images to work with instantly! 
8-Point LED Array. The autofocus function of our very own IRIS X80 intraoral camera would probably amount to nothing if this camera didn't come with other great features like the true white 8-point LED array. This lighting system ensures that the area of the mouth you're looking at is perfectly lit for the best HD image.
High-Performance Chemical and Impact Resistance. If you want to see the extent to which we take impact resistance, take a look at the unedited video footage below of an IRIS X80 being run over by a car and surviving the ordeal with just a tiny scratch.
As the video shows, the camera works just fine after the rough treatment! The seamless design and the materials we use ensure that the X80, the best intraoral camera on the market, will not be affected by impact and chemical exposure at your dental office.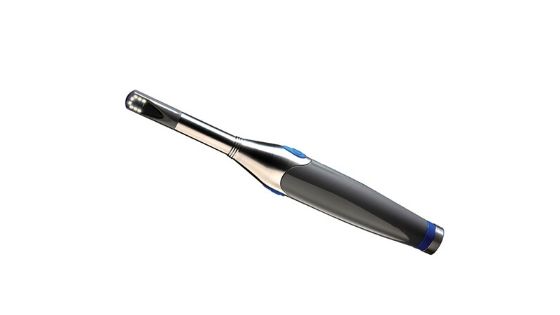 Plug-N-Play Ease. Any technology will succeed or fail to serve its purpose largely because of how it can be used. With the IRIS X80, you have no worries about ease of use since the device is a true definition of plug and play. All you have to do is unbox the camera, and you can start taking images immediately. No setup, no complicated user manual to learn. There are so many other unbelievable features of this camera that you should experience for yourself during an in-office or virtual demo. 
Why You Need the IRIS X80
Today, patients live in a world where they have access to the latest technology, and they expect their dental care provider to keep up with the times as well. The IRIS X80 is the best intraoral camera available today, so it will help you to meet the expectations of your patients.
The IRIS X80 intraoral camera is also great for your dental office in terms of the efficiency that it brings. Its ease of use means that patients can be in and out of the exam room quickly, so it frees you to see more patients on a typical day at work.
The superior images captured by this device are another essential feature that you cannot do without. In dentistry, like in any other medical field, the room for error is almost nonexistent. So, you have to have the best images possible to serve your patients. You can count on the X80 to be the best helper in your quest to provide excellent care to all your patients.
At Digital Doc, we would like to show you how adding the IRIS X80 to your dental practice will transform the way intraoral images serve you and your patients. Just sign up for a virtual demo on our website, and we will happily show you how remarkable this intraoral camera is.