How Autofocusing Intraoral Cameras Work
Everything You Need to Know About How Autofocusing Intraoral Cameras Work
Technology is advancing at a massive rate in all industries. You may be wondering whether it is really necessary for you to upgrade your current dental cameras to the IRIS X80 Liquid Lens Autofocus Intraoral Dental Camera. Here is a brief overview of how autofocusing cameras work and why so many doctors are upgrading to the IRIS X80.
The Challenges of Taking Great Intraoral Images
It can be quite difficult to capture high-quality images of the oral cavity. Luckily, dental technology continues to improve. Here are some of the challenges doctors often face when using a cheap intraoral camera.
Insufficient Lighting. The oral cavity is a rather small space, which makes good lighting minimal. Without proper lighting, you won't be able to capture high-quality photos, properly diagnose patients, and increase case acceptance. 
Insufficient Contrast Between Backgrounds and Objects. For a clear image to be taken, there needs to be sufficient contrast between the primary subject, such as a decayed tooth, and the background (the roof of your mouth, for example). This lack of contrast means that the person taking the images has to do a lot more work (by focusing the lens of the camera multiple times, for example) in order to capture the right image.
Moving Subjects. Patients normally try to remain still when you or a hygienist is trying to take intraoral images, but some movements are unavoidable, and these can compromise the quality of the images captured. Flinching or even breathing can trigger movements that make it even more difficult. Without an autofocusing dental camera, you'll spend more time trying to find the perfect image.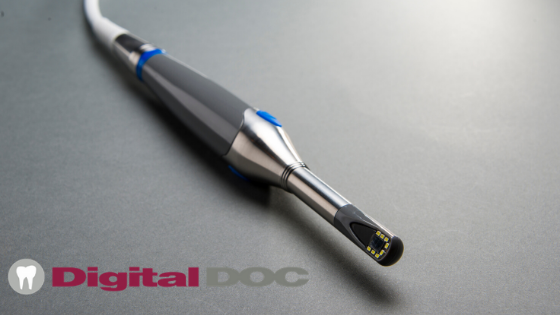 How Autofocus Intraoral Cameras Address Those Challenges
Using Digital Doc's intraoral cameras is truly a game-changer. 
The IRIS X80 dental camera has active and passive sensors that detect how much more light is needed for a clear image to be captured. Those sensors communicate with other camera components. These include the LED light array, to automatically tweak the lighting to the desired level. In this way, the challenges associated with insufficient light are minimized by the autofocus intraoral camera.
The autofocus dental camera also automatically determines whether the lens needs to move closer or further away from the subject. Once again, the IRIS camera does this work, so you don't have to.
The beauty of the IRIS intraoral cameras is that it performs just how you need it to.
Why You Need These Sophisticated Cameras
For decades, dentists have always struggled to make patients see things from their perspective. With an IRIS X80 Autofocus Intraoral Dental Camera at your office, you will be able to show patients in real-time exactly what you're seeing. Cracked teeth, tartar, and gum disease are much easier to show patients with the X80 intraoral camera.
Armed with those images, you will no longer struggle to explain a defect that needs to be addressed. Instead, the patient will see the importance of treatment.
Dr. David Moghadam, an Easton, PA dentist, agrees that intraoral cameras are well worth the investment. Digital Doc's autofocusing dental cameras not only allow you to show patients the problem, but it allows your hygiene team to take quality photos in half the time. This extra time can be spent building rapport with patients.
As you can see, dental technology has come a long way. If you're interested in learning more about autofocusing intraoral cameras or want to learn about other Digital Doc products, contact Digital Doc today to schedule a virtual demo.