How the XTG Handheld X-Ray Can Help Your Practice
How the XTG Handheld X-Ray Helps Dental Practices
It doesn't matter whether your dental practice currently uses digital or film X-ray sensors. The XTG handheld X-ray device will fit right in and bring advanced radiology right into your operatory! This portable X-ray system can be worn like a cross-body bag or guitar, or you can mount it on a tripod within the operatory. The choice is yours.
However, many dentists prefer to use the shoulder strap so that the x-ray device rests on your hip. In this way, you can walk around your operatory or from one room to another. At just 5.2 pounds, the portable dental x-ray system is the lightest in its class. Therefore, you should have no worries that you will suffer any aches and pains while using this device.
Besides, this handheld dental x-ray is designed to be used with only one hand, so you can switch to using your left or right hand in the course of the day just for its variety! In this article, we share how the XTG handheld x-ray can help your practice.
Reduced risk of radiation exposure.
Traditional x-ray equipment isn't just bulky but carries a higher risk of radiation exposure. As patients become more conscious about their safety, it helps to invest in an XTG portable dental x-ray device. Patients will appreciate the new x-ray device that drastically reduces the amount of radiation to which a patient is exposed without compromising the quality of the images captured.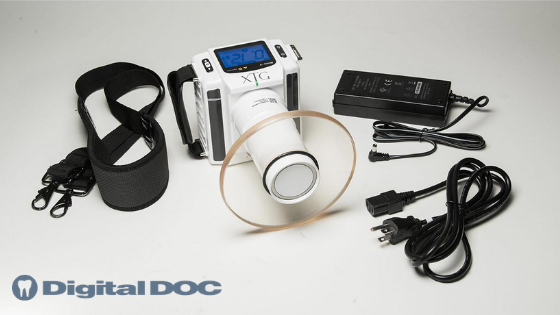 Ease of use. 
Once our Digital Doc team helps you set up the XTG portable x-ray system, all you have to do is plug it in and start taking clear x-ray images. You'll save more time with the XTG because it's so user friendly. In other words, just about anyone can operate this device.
Higher case acceptance rates.
The images taken using the portable dental x-ray system can be instantly displayed on a patient education monitor. Dr. Ben Kacos, the best dentist in Shreveport, LA, agrees that it helps if the monitor is large (think 50-plus inches) to see the high-quality x-ray images clearly. As you point out the areas of concern to a patient, that individual will be in no doubt regarding the necessity of the treatment plan that you propose since they will have seen for themselves the magnitude of the defect.
The list of benefits of using the handheld dental x-ray system goes on and on. Dentists enjoy using this x-ray device because it offers better care to patients, improves workflow, and increases case acceptance. Contact us today and schedule an in-office or virtual demonstration of how the XTG can be beneficial to your dental practice.