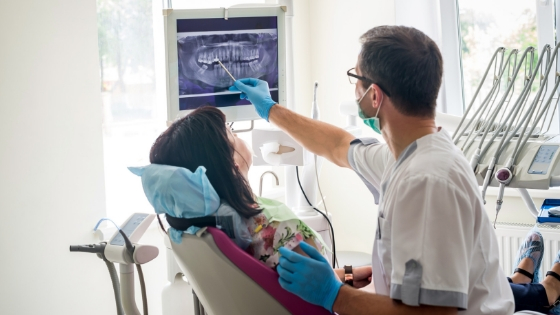 How to Improve Case Acceptance in the Modern Dental Practice
Your office may have experienced, and skilled staff, the latest dental technology, but that may come to nothing if your case acceptance rates are dismal. Read on and discover how to improve case acceptance in the modern dental practice.
Use Pictures, Rather Than Words
You can go on and on about treatments, but a patient may still say no to a necessary or recommended dental treatment procedure if they don't see the importance of it. Why not just tell your patient, but show them what you can do for them.
If you use the appropriate images to show your patient a firsthand view of what the problem is, they're likely to change their mind. For example, the patient may require deep cleaning instead of the routine cleaning that he or she had come for. Use the IRIS HD USB 3.0 Dental Camera to capture images of the affected teeth. Beam those images onto a large screen within the operatory so that the patient can see how serious the situation is. Your patient will then realize that your recommendation is indeed necessary, and he or she will likely move forward with the recommended procedure.
Emphasize Same Day Treatment
We live in a very busy world, and everyone seems to be pressed for time. How can your dental practice be more considerate of your patients' time?
Case acceptance in the modern dental practice can increase significantly if same-day services are emphasized. Recent technologies, such as the XTG Handheld X-Ray from Digital Doc, have collapsed the time that was initially required for patient care. The handheld X-ray allows the dentist to get instant x-ray images that can be displayed on a screen and reviewed right then and there. So, any needed dental work can be completed during one visit instead of having the patient come back for additional appointments.
In short, digitize your dental practice so that same-day services become the norm. You will see an increase in case acceptance rates at your practice.
Show Your Dental Patient Urgency
Another way to increase case acceptance in the modern dental practice is to stress the risks of delayed treatment to your patient. For example, a patient who comes into the office with a toothache should be told that urgent treatment is needed before more damage is done, which will cause additional dental procedures like a root canal.
Fortunately, sub-enamel illumination technology like LUM can be paired with an IRIS Intraoral Camera to show the patient how extensive their dental problem is. Consequently, it is likely that the patient will agree to immediate treatment once they fully understand the urgency of the situation.  
Adress Your Patient's Fears of the Dental Treatment
Sometimes, case acceptance rates can take a tumble when you don't address your patient's fears. For example, a patient may postpone a needed surgical procedure simply because he or she fears that the procedure will be so complex that there will be complications and the recovery time will be longer than expected.
Your staff can learn to integrate language that removes fear from your patients during consultations. For example, as you discuss the images taken using the IRIS LTE USB 2.0 Dental Camera beamed on a screen, inform your patient that their tooth decay treatment is a routine procedure and they'll be back to normal in no time. Additionally, you can explain that you have done it countless times without any problems. Addressing your patient's fears will help increase the case acceptance rates of your dental practice.
Refrain from the Money Talk
Your work as a dentist is to educate and treat patients. Focus on doing just that and avoid discussing the cost of the procedure. Let the front office or billing department discuss this with the patient. The best thing you can do is educate your patient about their necessary treatment. Make the best use of the IRIS Intraoral Cameras to help the patient understand why the urgent treatment is needed.
As you can see from the discussion above, case acceptance in the modern dental practice largely depends on how you present the case to the patient and their understanding of the necessary treatment. Digital Doc can help you to digitize your practice so that better patient care can be offered efficiently without sacrificing attention to detail. Contact us today for a demonstration of how our products can help to skyrocket your case acceptance rates.