Hygiene and Treatment Presentation 2021
Understanding Hygiene and Treatment Presentation
Periodontal disease and dental caries are bacterial diseases of the gums and teeth that are infectious. Although these illnesses are distinct, they have a common source: mouth biofilms. Both are classified as inflammatory disorders. Similarly, inflammatory illnesses have an influence on our overall health and contribute to the aging process. The frequency of dental caries and periodontal disease is growing, yet it can be difficult to persuade individuals to seek treatment for painless pathologies. Clinicians can gain from using more methods to detect, expose, and persuade patients to seek treatment.
Although disclosing dyes is conventionally used for revealing biofilm accumulation, it is a messy and an archaic process. Various new technologies have surfaced in the market, improving our ability to detect biofilm, inflammation and, dental caries. Digital Doc has a high-performance intraoral camera, which can show dental plaque, gingival inflammation, and is helpful in enamel-dentinal caries detection. This camera is friendly to use for the dentist and hygienist, and can also connect to any image management program. Intraoral cameras have proved to be useful in various clinical situations for years. We have been using this transillumination camera for years to evaluate biofilm, caries, and gingival information.
Through this article, we will describe the protocol for the routine use of dental technology during the prophylaxis appointment.
The Basis
We now live in the digital age. This affects the way people behave and also changes their decision-making when considering treatment. Deciding to take the treatment is no longer only reliant on relationship building. Our friends over at College Hill Dental, Easton PA dentist, explain that they see this, too. Many patients appreciate a trusting relationship with dental offices and undertake prophylactic "check-up" visits to ensure prevention. However, their behavior has changed according to their changing culture. Fifty-seven percent of people claim they prefer talking online than they do in real-life (in higher-earning households). Online research now determines decisions regarding service providers and purchasing for people despite getting personal recommendations.
To serve patients in the best possible manner, it is important to develop an integrated, comprehensive, and user-friendly platform to allow communication and cater to patient preferences. The intraoral camera provides visual communication to fit neatly in this digital consciousness.
Implementing Dental Technologies
Begin with a supplementary (non-threatening) approach:
Directions should be given to patients informing them of the process. We recommend reassuring them of their involvement in their own dental health decisions,

Next, use the Digital Doc intraoral camera.
Move to Doctors examination.
Do not begin by asking the patient about their problem.

Greet the patient first.

Ask hygienist/assistant to update you on the preliminary assessment.
Hygienist/Assistant should inform Doctor about patients medical. history/blood pressure

Recommend when the patient should visit next or follow up at home

Review the information you have gathered
After consistently using this standard process, you will find it to be a reliable, comprehensive and efficient method which supports oral-systemic health, preventative health, and early disease detection.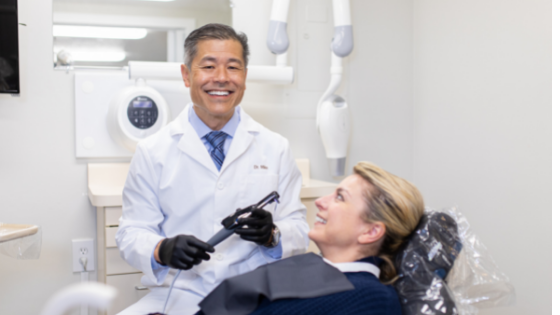 Application
Communication: Intraoral cameras facilitate fast and effective communication of the treatment process to the patients. Projection of the intraoral images to a large screen allows patients to co-discover the treatment process. It helps both patients and doctors in the treatment decision process.

Homecare evaluation: Prophylaxis appointments are the gateway to patient motivation and education. Dental teams need to descriptively portray the existing problems to the patients. The intraoral camera allows clinicians to highlight the existing problems to the patients and encourages them to be proactive in treatment and homecare.
Early Lesion Detection and Evaluation
Early caries lesion detection and prevention of subsequent invasive treatment is made possible by light-induced transillumination. Color-coded guide to risk assessment allows patients to identify caries marked in red through the Digital Doc device. Preventative measures can be taken for suspicious grooves rather than resorting to invasive methods. Cervical lesions can be assessed to decide on appropriate treatment (preparation versus fluoride varnish, remineralizing pastes, etc.). Presence of active caries can be detected by observing proximal fractures in real time.
In conclusion of Hygiene and Treatment Presentation
Digital Doc's leading IRIS LUM camera help show patients their oral health status. They facilitate the co-discovery process, suitable for today's digitally aware patients. It allows for efficient detection of carries and inflammation and also streamlines doctor-patient communication.
Implementing this latest dental technology can also be used to boost reputation online through social media.
Editor's note: This post was originally published in March 2019 and has been completely revamped and updated for accuracy and comprehensiveness.