Introducing Blū Intraoral Sensor By Digital Doc
Blū Intraoral Sensor By Digital Doc
Are you tired of overpaying for dental tools that don't work or end up breaking less than a year after purchase? We understand your frustration, which is why we specially designed Blū.
This advanced technology has taken years of perfecting, and we're thrilled to tell you all about the Blū. 
The Blū isn't like any ordinary dental sensor. Our Digital Doc team wanted users to have sharp, crystal-clear images that they could proudly show to their patients. With 27 PL/mm Theoretical, the Blū is now the best intraoral sensor on the market. 
When designing any Digital Doc product, we always keep the doctor and patient in mind. Implementing this high-quality intraoral sensor into your practice is quick and easy. Blū is not only supported by over 25 software suites, but the support plan also comes with virtual training. 
When purchasing your Blū Intraoral Sensor, you can choose from two sizes: Size 1.0 and 2.0. The sensor is about 4.8 mm thick and has external dimensions of 31.3 mm X 42.9 mm. It's sleek and compact design allows patients to experience maximum comfort.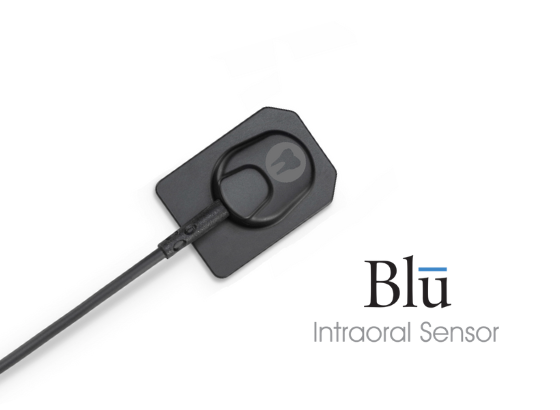 Using the Blū Intraoral Sensor to Increase Case Acceptance
Blū Intraoral Sensors are the best way to ensure patient comfort and top-quality care. Its small size allows dentists to comfortably provide coverage for digital x-rays, making the treatment planning process a breeze. If you want to easily show patients what you're seeing, you need Blū Intraoral Sensors.
This is what Digital Doc President, Brett Wilson had to say about the new Blū Intraoral Sensor:
"This product fits well with our technology story, SEE More. DO More. As you may know, we added the XTG Handheld x-ray three years ago, and we could no longer ignore the request for a digital x-ray sensor. It is going to provide our customers with value and customer support, allowing them to truly advance their practice.
Patients expect high-end technology. They use them every day in the palm of their hand. Join us in giving this experience to them with the lineup of products from IRIS cameras, LūM transillumination, XTG Handheld X-ray, and now Blū Intraoral Sensor."
You Have Digital Doc Support
If you're worried about training your staff on how to use a new dental sensor, don't be. With the help of our Digital Doc support team, you and your team members will receive virtual training right in your office. You'll learn how to maximize the benefits of your new intraoral sensor, making the return on investment even more remarkable.
Purchase Your Blū Intraoral Sensor by Digital Doc
We can't wait for you to get your hands on the Blū Intraoral Sensor. Contact your local distribution dealer or visit www.digi-doc.com to book a virtual demonstration today.