Secrets to a Memorable Patient Experience
Secrets to a Memorable Patient Experience at Your Dental Practice
Today, "customer experience" will make or break your business whether you own a tech company, a brick, and mortar, or a dental practice. Despite the hoops that the COVID-19 pandemic has forced us all to jump through, the dental industry is still providing the best dental experiences for patients. So, how do you get all patients to have a memorable patient experience? It starts from the moment your team members answer the phone to the second they walk into your office. In the article below, we share some secrets to a memorable patient experience. 
Here are six tips for providing comfort, personalization, and a memorable patient experience in the face of the pandemic.
Showcase the Safety Standards
One of the most important qualities every dental practice should have is safety. Although safety was important before the pandemic, it's even more important now. If it isn't obvious that you're following COVID-19 precautions on your website or in your office, then we recommend hanging up COVID-19 precaution signs, posting on social media, and adding details to your website. Patients will feel more comfortable knowing your office is going above and beyond safety standards.
Communicate Efficiently
Maintaining good communication with your patients is now more critical than ever. The patient's experience will be a little different than before. You'll need to let patients know what has changed since last visiting your office. You can notify them via text, email, phone call, or add a FAQ on your website.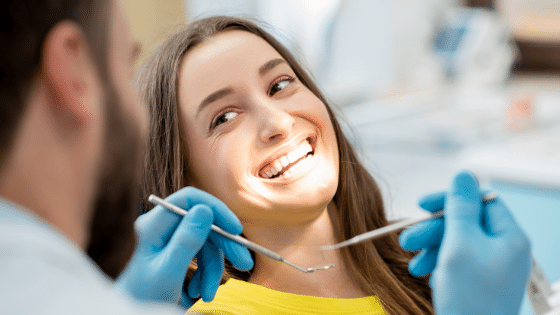 Recognize What Your Patients Need
Understandably, some patients will be more worried than others. It's your job to make them feel safe and at home. You can ask your patients to fill out a quick survey so that you and your team can get a better understanding of what your patients need. Our friend Dr. Ryan Helgerson, a dentist in Grand Junction, CO, says that patients recognize good customer service. In fact, studies show that 80% of businesses that prioritize customer satisfaction have an increase in sales. 
Be Flexible
As more patients come back to your dental practice for the first time, you'll have to work out the kinks. Have a conversation with your staff about being flexible and patient. For instance, some patients will have to reschedule their appointments or may even cancel last minute due to COVID exposures. You may even have to adjust your hours of operation. The more flexible you are, the better the payoff will be. 
Add a Personal Touch
In an industry where there are millions of dental practices, it can seem hard to stand out. Our Digital Doc team recommends adding a personal touch. Try to go out of your way to make your patients smile. Our friend Dr. Kacos, a dentist in Shreveport, LA, calls new patients and leaves personal messages, introducing himself. You could also try smile giveaways or patient of the month contests. There are plenty of ways to add a personal touch to your patients' experience!
Another way to make help with a memorable patient experience is by investing in advanced dental technology. Patients will appreciate it if you're staying on top of new techniques and implementing new technology to help provide the best dental care. For instance, if you have the best intraoral camera, you can take quality photos of your patient's mouth. This allows you to better diagnose and can also be used to show patients exactly what you're seeing. If you're interested in quality dental products, schedule a virtual demonstration with us today!