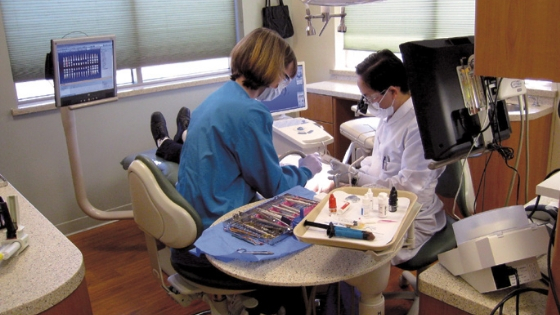 The Remarkable Story of Dr. Tuyen Nguyen
When you visit Dr. Tuyen Nguyen's state-of-the-art dental practice in Rush City, Minnesota, you cannot help but be inspired by his story. Dr. Nguyen migrated from Vietnam to start his version of The American Dream. Dr. Nguyen's story inspires anyone to believe that if they dream big, put in long hours of work and never give up, they too can live the life they've always hoped for.
Born towards the end of the Vietnam War, Dr. Nguyen, grew up when the Communists took over the country. They rigorously enforced their system upon the people and punished anyone who got in their way. Any form of money or power was considered a sin. People went so far as to throw money in the river so that they could avoid being punished.
Dr. Nguyen came from a family who valued skills and education. His parents worked very hard to become schoolteachers to earn a good living. After the Communists took over, his parents were only making ends meet. To increase their income, Dr. Nguyen's mom ran many businesses from their home. She purchased peanuts in bulk, processed them, added value, and then sold them. She did the same with other items like oil, sugar, and rice. Later, she started a sewing business to make clothing for exporting companies.
Dr. Nguyen helped out in the family businesses. But he was a determined young man who had the desire to better his circumstances in life. Dr. Nguyen rode a bicycle 20 miles three times a week in order to complete a preparatory course for a Vietnam college entrance exam. Later, he found out that he did not qualify to get into medical school. Dr. Nguyen did, however, get into a physician assistant program. After three long years of training, he qualified for a physician assistant job, which paid $25 a month. Dr. Nguyen could of qualified for a job that paid $50-100 a month if he went to medical school. He decided to go back to Biên Hòaorked to work for his mother's at-home banking business. Dr. Nguyen told himself that he would one day board a plane and leave for a foreign country where he would get a better education.
His dreams of a better education finally became a reality when Dr. Nguyen found a way to migrate to the United States. He left Vietnam, traveled to the Philippines in 1992 and moved to the United States in 1993. He started his education in the U.S. at a community college. Dr. Nguyen considered nursing, teaching, business, and being a hygienist as possible career paths. Eventually, he decided he wanted to be an electrical technician. He made his way to Saint Paul College to gain the knowledge and skills he needed. Then one of his prime supporters convinced him that he was capable of doing more than engineering. Dr. Nguyen was encouraged by his peers to aim higher in the career field several times.
Dr. Nguyen completed dental school in 2002 and embarked on acquiring his own dental practice, a dream he had in 2005. Dr. Nguyen didn't just want any regular dental practice. He wanted a comprehensive dental practice with the latest technology, such as 3D cone beam x-ray, hard and soft tissue laser and intraoral cameras. With the latest technology, he could leverage his newly acquired professional skills in order to offer the best service to his patients. That dream of a state-of-the-art dental practice saw the light of day in 2009 when he organized a grand opening for the revamped dental practice he bought years earlier.
Where is Dr. Nguyen now?
Today, Dr. Nguyen's dental practice has 12 dental chairs, each with its own intraoral camera. He credits a combination of many investments such as the IRIS 2.0 Cameras made by Digital Doc, the facility, the proper number of team members to additional training.  Training courses to better serve his patients with Implants, for example, IV sedation, sleep apnea.  If you want to grow your production to over $1000 per hour, this list is a great place to start.
How can that be? Dr. Nguyen, explains that the cameras, for example, enable him to SHOW his patients that his dental practice is more thorough in its work when compared to the other dental offices. A new patient who comes in knowing that he or she has four cavities discovers from the images captured by the intraoral cameras that there are seven or eight cavities! By SHOWING the patients the extent of their dental problems instead of merely TELLING them, Dr. Nguyen proves the superiority of his services. Consequently, case acceptance rates have soared, along with his income.
Looking back to the $25 per month at a physician's assistant back in Vietnam to $1,000 an hour. Dr. Nguyen is truly thankful for how far he has come and he encourages those in his field to go after what they want in life. If he could make it, you can make it too!