Tips for Purchasing Intraoral Cameras Online
Digital Doc's Tips for Purchasing Intraoral Cameras Online
An intraoral dental camera is one of the best tools that any dentist can have in their office. Dentists everywhere agree that diagnosing treating and monitoring the dental health of patients becomes a whole lot easier with this device. Consider following the tips below if you are considering purchasing intraoral cameras online.
Do Your Research
As much as we would like to do business with you, we don't recommend purchasing the first dental camera you find. 
Start by doing thorough research. Not only intraoral cameras in general but also about the specific brands you are considering.
For example, dental cameras can be wireless or wired. Do you know the pros and cons of each? Do you or your team have a preference? Decide which type of intraoral camera will work best for you. 
Your research also needs to cover the practice management software you use and whether it will be compatible with your office system. This transition will be much smoother if you can find a camera that works with your current practice management system.
Next, examine the specific features of the different intraoral cameras on your shortlist. For instance, if you're interested in switching to autofocusing intraoral cameras, then the IRIS X80 Liquid Lens Autofocus camera from Digital Doc would be a good fit. 
Dr. Green, a dentist in Parker, CO, recommends that you assess every detail and feature about each camera and finally zero down on the one that will make your investment worthwhile.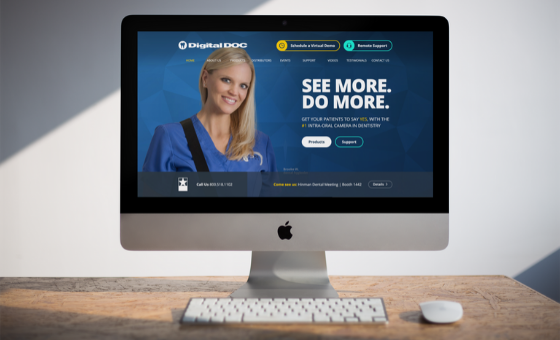 Talk to the Dental Supplier
Once you have selected a potential supplier of dental cameras for your office, contact that supplier, and discuss how their products can meet your needs. This step is optional but necessary because we at Digital Doc strive to customize a solution for our clients' needs. Our goal is to help you increase case acceptance and patient rapport.
That's why we've put together virtual or in-office demos of our products. At the end of this step, you can be confident with your purchase decision.
Order the Dental Products
Hopefully, you now have a clear picture of how many IRIS intraoral cameras you need for your office and the accessories that would go with those cameras. All you need to do is simply select the products you would like to purchase from one of our distributors. With your order placed, sit back and wait for your shipment to arrive!
With Digital Doc, your installation is made easy. The IRIS X80 intraoral camera is plug-and-play ready. If you're having difficulties, our support teams are available to address any issues you may have. If this sounds like something you would like, contact Digital Doc, and we will discuss how your dental practice can benefit from the technologies we have developed.