Tips to Increase Case Acceptance
Tips to Increase Case Acceptance with Dr. Mark Hyman and Dr. Sully Sullivan
Digital Doc recently had the pleasure of hosting a webinar with leading dentists, Dr. Mark Hyman and Dr. Sully Sullivan. During the webinar, we hear from two perspectives, baby boomers and millennials. Here we highlight some of the tips to increase case acceptance at your dental practice.
Sight and Sound Are Key
About 94% of how we buy is determined by what we see and what we hear. When you put a picture in front of baby boomers, they have ownership and will be more likely to accept the treatment you are recommending.
Many patients, especially younger ones, come to the dental office when they've already "educated" themselves about their condition on Google. Having an image to show the patient prevents an argument about what's going on.
Put Patients in Charge
Give patients the driver's seat. Allow them to tell you what they do and don't like about their smile. Images captured with the best dental cameras from IRIS make this possible.
You can create a sense of urgency with every patient. As a result, case acceptance will shoot through the roof. Dr. Boals, the best dentist in Colorado Springs, recommends that you capture a picture for every patient before, during, and after treatment.
Use Positive Communication
Rather than scaring patients into accepting treatment, how about being positive about their dental health? For example, during a hygiene visit, you can tell the patient that you see wonderful enamel on 26 of their teeth, but there are some issues on two teeth. You then ask for their permission if they wouldn't mind hearing about the issues in those two teeth. The resultant discussion will be a joyful one, rather than a reprimand.
It is important to take photos of every stage of the treatment process so that when a patient returns with an additional complaint. For example, if your patient comes to you with tooth sensitivity, you can point to the crack in their tooth as the reason for that sensitivity. Also, if insurance tries to deny a claim, those photos will provide solid proof of the necessity of the treatment given, and the claim will be approved. This gives patients more leeway to accept treatment recommendations.
Does the size of the TV monitor in your dental office matter?
The bigger the screen, the better. This is because older patients don't have very good eyesight, so bigger screens work best for showing them images of their oral structures. Younger patients have big screens in their homes, and they use large screens at work. So, it is only natural that bigger screens would be ideal at the dental office to suit the expectations of these patients.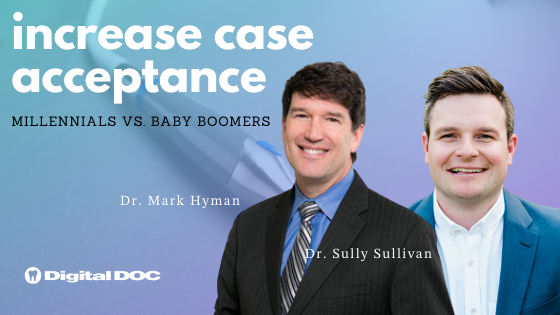 The Monitor Quality Matters
Note that it isn't just about the size of the monitor. The quality also matters, especially for younger patients who have grown up in the age of HD. They are used to high-quality images, and they expect high-quality images at the dentist.
Get sleek equipment, such as Digi-Doc dental cameras. They are easy to sanitize and carry around, especially in this COVID-19 era, when people are worried about becoming infected.
Reduce Visual Clutter
Get the artwork out of the operatory so that you can keep patients focused on what you are showing them on the monitor.
For reps selling dental equipment and supplies, your focus should be on asking dentists what goals you can help them with. For example, baby boomer dentists may have offices that look like they are stuck in the 1950s. Transitioning to newer technology will attract younger patients to walk through the door.
In addition, reps can sell dental technology by breaking down the cost of how it will improve the bottom line of dental offices. For example, a dental camera will be used to take an image of every patient who comes in, and those images can result in one extra crown being fitted every week. As a result, revenue will increase every month.
Treatment Calibration Puts Teams on the Same Page
Treatment calibration is also important so that all team members look at images in the same way as you do. This calibration can be done by blocking out some time each week and sitting together to discuss image by image. Each person will share their views, and by the end of the session, members will have got insights that will help them to see things better and educate patients better.
Avoid Technical Language
Write out your treatment plan in language that the patient understands. Using technical language alienates the patient since it will be removed from what they are used to. The easier it is to understand, the better.
If your goal is higher revenue, implement these tips to increase case acceptance. To watch the full webinar, visit Digital Doc's YouTube channel or click below.
At Digital Doc, we are committed to providing you the best technology, such as the best intraoral dental cameras, handheld dental x-ray devices, and LuM Transillumination devices. Make use of these technologies so that you can SEE More, DO More! Schedule your free virtual demonstration today.