Why An IRIS Intraoral Camera is Your 3rd Eye
Why an IRIS Intraoral Camera
If you are still on the fence about upgrading to the latest intraoral cameras from Digital Doc, you should know that many dentists have referred to these HD cameras as their third eye. The following are some of the compelling reasons why dental practice owners are heavily relying on the IRIS X80 intraoral camera.
They Facilitate Patient Education
If you're a dentist, you know how difficult it can be explaining dental terminology and treatment to patients. However, with the best intraoral camera, dentists discover that patient education is a breeze. All you have to do is show your patient the live imagery from the intraoral camera on the monitor. In real-time, your patient can see exactly what you're seeing in their mouth!
When brought face to face with their dental problems, patients are more likely to agree to the proposed treatment plan. As a result, your case acceptance rates will skyrocket. Without the help of the best dental camera, patient education is a lot more complicated. 
Cameras Make Dental Visits Interactive
Patient buy-in is one of the hallmarks of effective dental care. However, this buy-in is often hard to procure since the dental visit tends to be dominated by the dentist or hygienist. Patients are therefore left as bystanders in their own treatment until the point at which the dentist issues instructions about what needs to be done.
With an IRIS intraoral camera, dental visits become way more interactive. Sometimes patients have no idea what is going on with their oral health until the very end of the appointment. However, with the IRIS X80 patients feel more comfortable interacting with their dentist or hygienist because they can see what is going on. Digital Doc's intraoral cameras will easily increase patient rapport.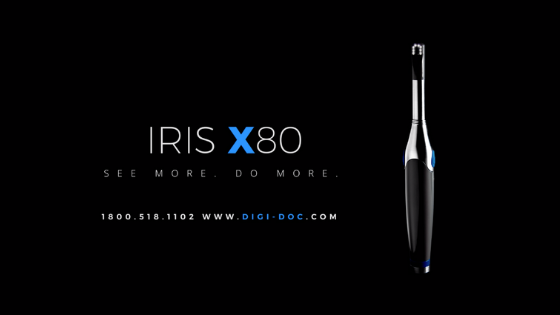 Insurance Claims Are Quickly Processed
When dentists say that an intraoral camera is a third eye, they're not kidding. The high-quality images produced by Digital Doc's intraoral cameras are remarkable. This makes insurance claims go a lot smoother. There's no doubt that treatment will be approved once the insurer sees the images from the intraoral camera. 
Without the IRIS intraoral dental camera, chances are that your front desk will have to communicate back and forth between the insurance company, trying to convince them to accept claims.
Better Treatment Outcomes and Preventative Care is Improved
A dental office that uses an IRIS intraoral camera provides more accurate treatment plans to their patients. With the best intraoral dental camera from Digital Doc, dentists can look closely at each tooth and take note of the different shades on its surface, the texture, craze marks, translucency and other details of the tooth. Dentists who use the IRIS X80 intraoral camera can also catch dental complications sooner than later.  spend less and do  Thanks to Digital Doc's intraoral cameras, you'll truly be able to See More. Do More.
As you can see, an IRIS HD intraoral camera is indeed a third eye for dentists. If you, too, would like to enjoy the benefits of using a Digital Doc intraoral cameras, contact Digital Doc today and schedule a virtual demonstration.
Watch Dr. Zarah Ali, a dentist from Wellesly Dental Group, to hear why an IRIS intraoral camera is your third eye.