Why Having A Handheld X-Ray Will Change Your Dental Practice
Taking Your Dental Practice To The Next Level
At Digital Doc, we are proud to offer the XTG, the #1 portable x-ray on the market. The XTG reduces FMX time by half, allowing you to stay in the room with your patients during ALL radiographs. This not only saves time, but also improves the overall patient experience by making them feel more comfortable and relaxed. In addition, the XTG is easy to use and set up, so if you are looking for an upgrade for your operatory, the XTG is a perfect choice!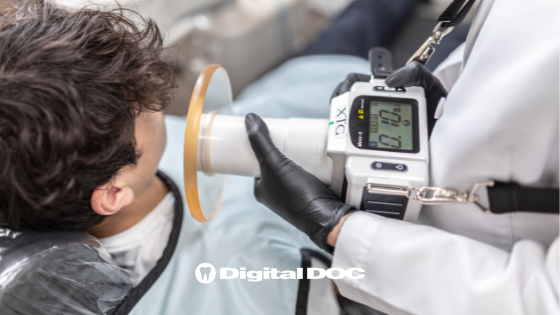 You Are Able To Stay In The Room With Your Patient And Save Time
The XTG handheld dental x-ray is a great way to reduce your FMX time while still getting high-quality images. With the convenience of a handheld unit, you'll be able to stay in the room with your patient, making the experience more comfortable for both of you. Plus, the XTG is easy to use and produces excellent dental x-rays, so you can be confident in the care you're providing. So if you're looking for a way to reduce your FMX time, Digital Doc has the handheld x-ray for your dental office.
Safety For You And Your Patient
The XTG handheld x-ray is a safe and reliable tool that can be used in your dental practice. The FDA has tested and certified to meet all safety standards. This device uses a very low dose of radiation, which is well within the safe range for dental x-rays. In addition, the x-ray has been designed to minimize exposure to the patient's head and neck. Our friends at Green Dental Care, the best dentist in Parker CO, say that the XTG is an extremely safe and effective way to take dental x-rays.
Contact Digital Doc Today!
At Digital Doc, we are always here to help. Whether you need assistance with a technical issue or have a question about one of our products, our team is here to help. Contact us today to get your XTG handheld x-ray.