Why Patient Satisfaction Is Important
The Importance of Patient Satisfaction
Patient satisfaction is increasingly becoming one of the most important metrics of dental offices and for a good reason. Here are some of the major reasons why patient satisfaction is important to your dental office.
Satisfied Patients Are Loyal Patients
When a patient gets exceptional service at your dental practice, that patient is likely to stay with you for the long run since they will want more of that unparalleled care offered at your office.
As you may already know, it is very costly to attract a new patient to your office, so it makes a lot of sense to invest in patient satisfaction so that everyone who comes to you for dental care doesn't leave for another dental practice.
High Patient Satisfaction Attracts New Patients
There is no powerful marketing tool like word of mouth recommendations, and high rates of patient satisfaction can get you tons of these referrals.
Imagine having the latest digital dental technologies, such as the best intraoral cameras made by Digital Doc. Not only will you be able to show patients their dental health problems that they have through clear images, but also demonstrate your commitment to bettering patient diagnosis. 
Your patients will be highly satisfied with the services that you offer and guess which dental office they will recommend to their family, friends, and colleagues at work? Yours, of course!
Statistics show that when a patient is happy, they will talk about you to at least five other people. However, if, for whatever reason, the patient is unhappy with the services you offer, that patient will talk about their bad experience at your office to a minimum of nine people!
As you can see, the stakes are high, and the best way to turn them in your favor is to institute systems through which patient satisfaction rates can shoot through the roof. 
Patient Satisfaction Affects Clinical Outcomes
Research shows that patients who have a high rate of satisfaction with their healthcare provider get better clinical outcomes than those with a low rate of satisfaction. What this means is that your treatment will be more effective if your patients trust you.
For example, a patient who communicates freely with you is more likely to adhere to all the treatment instructions that you give, and this will, in turn, result in better clinical outcomes.
The good thing is that there are tools, such as the handheld digital x-ray device from Digital Doc and the IRIS X80 Dental Camera, which increase your productivity and allow you to engage more meaningfully with your patients. As a result, your patients will feel a connection with the staff at your dental office, and the clinical outcomes will improve as a result of this empathy.
How to Increase Patient Satisfaction Rates
Having seen how important patient satisfaction is to the success of your dental office, we now turn to some of the measures that you can implement in order to improve patient satisfaction. These include: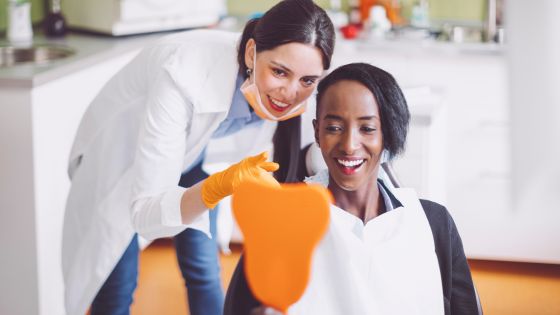 1. Personalized Patient Care.
Each patient is a unique individual, and they want to be treated as individuals. Imagine what would happen if you've known someone for years, and you couldn't remember a single thing about their life, i.e., their job title, family members, or hobbies. You should always make an effort to get to know your patients on a personal level. Ask them important questions about their life and make a note on their chart so you can remember. Then next time, you can ask follow-up questions regarding that subject. Patients will appreciate you remembering small things about them. Not only will this bring you closer, but this will also improve patient rapport.
2. Keep Your Staff Happy and Engaged.
Emotions are contagious, and that is why we tend to smile when someone smiles at us. If your staff are upbeat and engaged when interacting with patients, this will rub off on the patients. They, too, will become upbeat and satisfied with the care they are receiving. This positive mentality is especially important since not many people look forward to making dental visits. Dental anxiety afflicts millions in the U.S. So, happy staff do a lot to ease the apprehension of such patients. Needless to say, patient satisfaction rates will increase as a result.
3. Respect Your Patients' Time.
Nothing damages patient satisfaction like needlessly long wait times for appointments. While the occasional delay is understandable, efforts should be invested in minimizing such delays or making those delays more bearable. For example, you can install a digital system that lets each patient know how much longer they have to wait before seeing the dentist. A personal apology by the dentist can also go a long way towards easing the adverse effects of making patients wait. Time is money, so don't waste your patients' "money" if you want them to be satisfied with your dental practice.
As you can see, the importance of patient satisfaction and the success of your dental practice goes hand and hand. In today's world, the perception of the care that you provide at your dental office is often as important as the quality of the care provided. For this reason, it is important for you to pull all the stops, so that patient satisfaction rates match the quality of care at your dental office. We at Digital Doc are waiting to partner with you on this journey of improving patient satisfaction. Our best in class digital dental cameras, handheld dental x-ray device, and all their accessories will modernize your dental office so that it meets the technological expectations of your patients. Get in touch today and let us discuss how we can be of help.