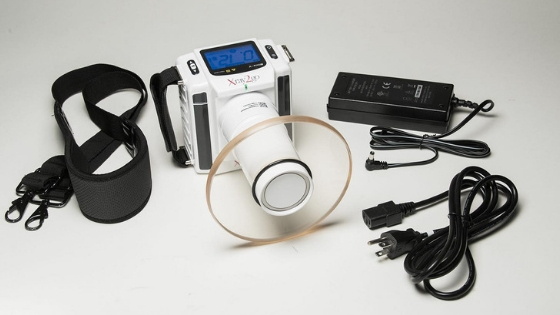 XTG Handheld X-Ray Shines During Dental Mission to Haiti
It is easy to take things for granted when you live in the developed world. We often forget about the struggles third world countries face, such as access to food, clean water, and shelter. These countries also have little or no access to basic dental care. So, the vast majority of the population are living a poor quality of life (severe pain, inability to eat properly, premature tooth loss, gum disease, etc.)
As a way of giving back to humanity, Dr. Chris Hansen of Two Rivers Family Dental and a team of dental professionals went on a mission to Los Cacaos, a remote part of Haiti, for 10 days. Their mission was to provide free dental services to people from the villagers in Los Cacaos and the surrounding areas. Dr. Hansen and his team set off on February 14 determined to do what they could to ease the pain and suffering of locals.
Dental missions are hard to pull off because doctors don't have access to the same dental equipment and materials they normally would at a dental care facility. On mission trips, you have to make do with makeshift facilities, often performing dental procedures wherever necessary.
All this would not have been possible without portable dentistry equipment, such as the Xray2go, a handheld compact x-ray machine that produces high-quality radiographic images.
In Dr. Hansen's own words, "We were so fortunate to have a portable X-ray2go from our friends at Digital Doc! They have been generous partners in dental missions!" Her words speak volumes about how valuable the XTG Handheld X-ray can be when you need dental services on the go.
The XTG Handheld X-Ray took it all in stride and delivered high-quality x-ray images a day in and day out right to the very end! In total, the dental mission team performed 4 dental cleanings, 56 dental restorations, 573 tooth extractions, and 11 Silver Diamine Fluoride (SDF) treatments. The faithful and reliable Xray2go was there to provide all the radiographic images needed to perform the vast majority of those procedures.
The innovations that have brought portable handheld x-ray machines like the X-ray2go and other compact dental equipment like the LUM sub-enamel illumination device have made it possible to offer dental care just about anywhere. Dental offices that participate in dental missions or other outreach services should take advantage of the functionality and quality these products provide. Contact Digital Doc today for a FREE demo!