One Reason LUM Will Help Your Dental Practice
Why The LUM Will Change Your Dental Practice
LūM Transillumination is the latest dental imaging technology advancing every dental practice worldwide. It is used as an add-on attachment for your intraoral camera. The LŪM attachment assists your team in detecting cracks in the tooth or old fillings using transillumination technology. The clarity of the X80 delivers liquid lens clarity with every picture. This diagnostic tool helps you find these issues early and plan treatment accordingly. With LŪM's advanced lighting system, you'll be able to detect even the smallest cracks. Investing in this state-of-the-art technology will help take your practice to the next level. Thanks to LŪM, you can be confident you're providing your patients with the best possible care.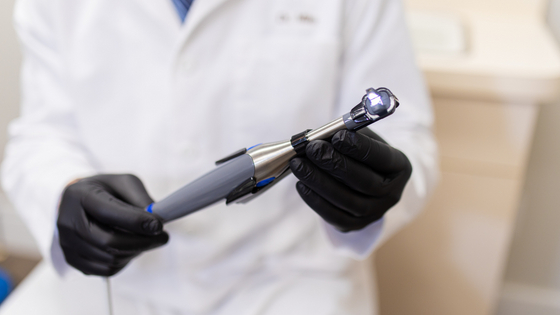 The Accuracy Of The Lens Capture 
LūM extends the detection capabilities of America's leading intraoral camera, the X80, with sub-enamel illumination diagnostic methods. This compact, easy-to-use tool provides instant documentation and detection of all findings. With the LūM, you will have the ability to see cavities, cracks, stains, and caries activity with ease. Turn on the camera's blue filter and fluoresce under UV light to provide evidence of any non-cavitated lesions. In addition, the LūM can provide you with a magnified view of your patient's teeth, allowing for more accurate diagnosis and treatment planning. With its user-friendly interface and advanced features, the LūM is an essential tool for any dental practice.
When you invest in a Digital Doc product, you are not only purchasing a high-quality item but also gaining access to our team of experts. We can guarantee that you have support from our team at Digital Doc. In addition, we offer training to ensure you know how to use your new purchase to its full potential. And if anything ever goes wrong with your product, our extended warranty has got you covered. With Digital Doc, you can be confident that you are making a wise investment that will serve you well for years. Our friends from Green Dental Care, the best dentist in Parker CO, love our extended warranty program and its ease.
Contact Digital Doc Today!
There's no denying that dental technology has come a long way in recent years. With new advances in digital imaging, dentists can now provide patients with more accurate diagnoses and effective treatments. But with all of these new choices comes the need for dental practices to keep up with the latest technology. That's where we come in, at Digital Doc, we offer a complete line of state-of-the-art dental equipment to help your practice stay ahead of the curve. We have everything you need, from our XTG Handheld X-ray to intraoral cameras, to provide your patients with the best care. So if you're looking for ways to take your practice to the next level, give us a call today, and we'll be happy to show you what we can do.