Tips to Improve Patient Experience
Tips to Improve Patient Experience 2021
Every dentist would like to see a high patient loyalty level, numerous positive reviews, and word of mouth recommendations. Exceptional clinical care alone may not produce these effects but will certainly ensure that the patient's experience is excellent. Below, our Digital Doc team shares some tried-and-tested tips to improve your patient experience in your dental office.
Make Your Office Easy to Find
Not many dental offices have the benefit of having an entire building all to themselves, so it goes without saying that new patients need to be able to reach your office effortlessly. Digital signage and other means to guide patients to the dental office will go a long way towards making the first impression of your patients a good one. With that first aspect of patient experience nailed, you will have fertile ground to build upon to cement your dental office as the best.
Expedite the Intake Process
Once the patients get to your dental office, the intake process must be as seamless and swift as possible. For example, interactive displays and check-in kiosks are a good way to eliminate queuing up at the reception during the intake process. The patients' first 5 minutes in your office can make or break their experience, so make sure your front office is fast and effective. 
Make Wait-Times Seem Shorter
Making patients wait is one of the most common complaints in dentistry. While you can do everything possible to avoid making patients wait for their appointments, it is sometimes inevitable that patients will have to wait. Provide entertainment and digital signage to keep your patients engaged while they wait. In this way, the wait-time will seem to be much shorter than it actually is.
Free Wi-Fi Available
In today's world, most people carry around some form of technology. Whether that's their smartphone, laptop, or tablet. What better way to minimize the effect of wait-times than by allowing free Wi-Fi in your office? Patients will greatly appreciate having free Wi-Fi, especially if they have little ones.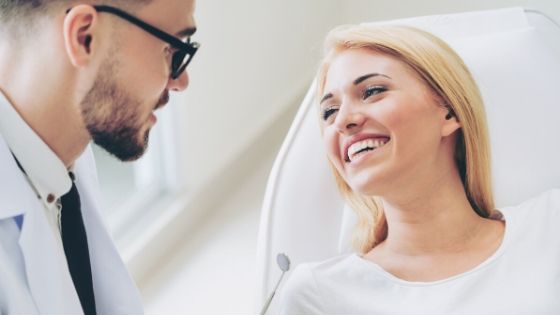 Chairside Efficiency is Key
Let's face it. Very few patients look forward to undergoing a dental treatment. So, the secret to giving them a great experience includes being as efficient as possible.
For starters, ensure that all the supplies and equipment you will need are available in the operatory before the patient comes in. Pausing a procedure as you wait for a dental assistant to bring something you need isn't exactly the best etiquette. 
The technology you use in your dental practice can directly affect your patients' experience. Upgrading your dental devices will not only show patients that you are keeping up with the latest technology, but it will also show them that you are serious about providing the best services possible. For example, it will take you a shorter time to examine your patient's teeth for caries if you have the LUM Transillumination device from Digital Doc. The IRIS Intraoral Cameras made by Digital Doc also increase efficiency because you will instantly access high-quality images for diagnostic and case presentation purposes.
Make the Environment More Relaxing
You cannot go wrong if you invest in creating positive vibes at your dental office. A relaxing environment can go a long way towards easing any anxieties that your patients may have, so play soothing music in the waiting area, provide cozy seats and pass around relaxing refreshments so that your patients can be put at ease. Our friends at OG Dental, a dental office in Denver, CO, offer a comfort plan to help patients relax. This includes offering patients headphones to watch Netflix, warm towels, and more. 
Don't Ignore the Operatory
Many dental offices go all out the make the waiting area as welcoming as possible, but they pay little attention to the examination room. This is a mistake because the exam room is the one place where patients are most uneasy. Therefore, it is wise to be as meticulous as possible when selecting everything you put in the operatory. For example, the walls should be painted using a warm and calming color. The relaxing music you provide in the waiting room should also be played in the exam room to carry over their relaxation from the waiting room to the exam room until they leave.
Involve the Patient in Their Care
You can go a long way in enhancing the patients' experience by making the patient an active participant in their care. For example, you can use the monitor in your operatory to display the images captured using a handheld x-ray machine or the best dental camera made by Digital Doc. Discuss these images with your patients and highlight the problem areas observed. That discussion between you and the patient will put the patient in the driving seat, and his or her experience at your office will be enhanced.
Hopefully, you can use the tips above to conduct a brainstorming session with your staff so that you come up with the specific steps that you can take to improve the patient experience at the dental office. At Digital Doc, we are committed to providing best-in-class dental technology, such as intraoral cameras, handheld x-rays, and other modern dental technology. Contact Digital Doc today and let us talk about how we can help you transform your patients' experience for the better at your dental office.
Editor's note: This post was originally published in December 2019 and has been completely revamped and updated for accuracy and comprehensiveness.