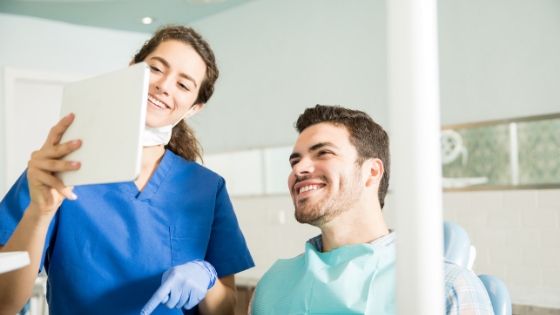 Adopting Portable X-Rays Into Your Practice
If you haven't incorporated portable handheld x-rays into your dental practice, you are missing out on a lot of benefits that these devices bring. In this article, you'll discover how adopting Digital Doc's XTG Handheld X-Ray will transform your dental practice.
Employees' Work Is Eased
Sometimes you don't realize how much of an asset dental technology can be until you use it. When your employees use the portable XTG Handheld X-Ray frequently, they'll realize how easy it is to set up and capture images. All that the employees have to do is to power it up, take aim, and start capturing images. No more wasting time walking in and out of the operatory with every shot taken.
As the portable x-ray eases the work of employees, it frees them to be more productive and build rapport with each patient. This increased productively has a direct positive effect on the bottom line of your dental practice.
Patient Experience
The dental industry is more and more competitive today.  Are you accepting new patients?   Would you like this number to continue to increase?  Investing in technology such as XTG hand-held X-ray and communicating this to your patients will improve their experience.  Improving patient experience will result in more new patients.  People talk about their experiences, both positive and negative.  The conversation could go something like this: "Jim, we are always looking for ways to improve your experience.  We just invested in hand-held x-ray, which allows us to reduce the time it takes us to take your Xrays by half the time.   It is very safe.  So much so, I get to stay in the room with you. What do you think?"
Instant Diagnosis is Possible
Traditional x-rays are a time-consuming process for both the patient and the dental care provider. Digital handheld x-rays and intraoral cameras collapse this time because the images captured are beamed onto the screen available in the operatory as soon as the image is taken. Faster diagnosis means treatment can be commenced sooner, and patients can make an informed decision while the image is still vivid in the minds.
Storage of Patient Records is Eased
It is also easier to maintain patients' records after switching to digital dental technology, such as the LUM sub-enamel illumination device, the xtg2go portable x-ray, and the IRIS HD digital intraoral camera. The images captured using the portable x-ray or the digital intraoral camera can be sent directly to the digital file of each patient. It is therefore easy to retrieve this patient data since it is all stored in one place, and there's no need for staff to archive records manually.
As you can see, your dental practice can benefit from adopting portable x-ray equipment. Talk to the experts at Digital Doc and learn how you integrate this portable digital x-ray equipment in your practice today. As always, SEE More.  DO More.