Benefits Of A Handheld X-Ray
Everything You Need to Know About A Handheld X-Ray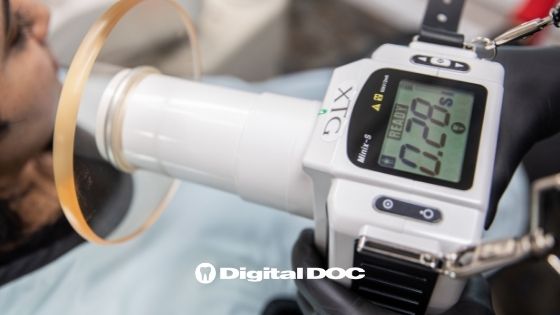 2022 has elevated preventative care to a whole new level. Since Covid, patients expect digital, they expect efficiency, and they expect timely care. With all of the technical advances in digital radiography, it's no surprise that more businesses and dental practitioners are investing in digital and portable X-ray equipment. Likewise, you gain from using portable dental x-ray. These devices have transformed diagnostic imaging.
The following are some of the most significant benefits of adding a Handheld X-Ray to every chair in your practice.
Advancement in the portability and mobility of these handheld x-rays
One key advantage of empowering staff with a portable dental x-ray system is it's lightweight and easier to move around. Not all hand-held x-rays are created equally though. Look for things like lightweight and comfortable straps when you make this investment. Not only will your XTG help reduce needless transfers and changes in your patient's body posture during x-ray exams. This increases flexibility and improves patient care.
Quicker and more efficient dentistry
Radiograph tests performed using mobile imaging equipment have a faster processing speed and no considerable wait times. The handheld X-ray equipment can be used in less than 20 minutes.
Digital Doc's XTG is the #1 portable x-ray that reduces FMX time by half. Forget about leaving your patient's chairside! XTG allows you to stay in the room during ALL radiographs, saving time and improving the patients' overall experience. If your operatory is ready for an upgrade, let's chat!
Safety concerns you may have 
Radiation exposure is one of the critical health concerns for both patients and employees while using standard medical imaging equipment; nevertheless, studies suggest that using portable radiological devices reduces radiation exposure significantly. They are shielded from dispersed radiation by the shield installed on the front of the portable X-ray instrument.
Picture quality has become a lot more advanced 
Handheld dental x-ray devices are cutting-edge technology. This enables your technicians to obtain high-quality photos in a short time.
The imaging device's laser scanner does not utilize film and instead consists of phosphor plates and cassettes that may be successfully erased after use.
With the workstation attached to the portable device, technologists may also improve digital medical pictures collected in the field.
Quality of Overall Patient Care
The efficiency of digital imaging technology has contributed to the elimination of X-ray test retakes and the provision of timely and accurate information. Patients and hygienists do not have to worry about poor image quality or longer processing times. With portable X-ray devices, your radiologists and patients get accurate and quick findings without bringing the patients to a separate room to take images of their teeth.
The XTG hand-held x-ray offers cutting-edge, lightweight, portable, and mobile X-ray equipment designed to be quickly and safely moved. 
Contact 
Digital doc is here to help you make advancements in your dental office. We want you to have the best handheld x-ray to make things easier.