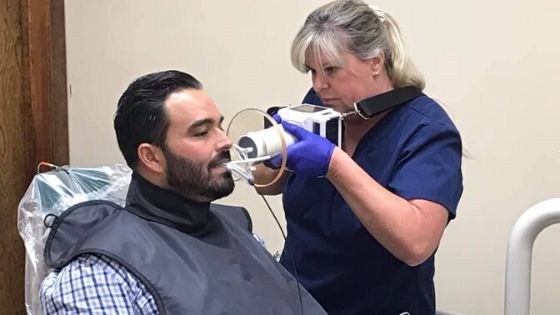 A handheld X-ray is a battery-powered, portable x-ray device. These hand-held X-ray devices serve the primary purpose of taking intraoral x-rays. In this modern wave of technological advancement, everything has gone portable. We've seen increasing usage of hand-held X-ray devices in dental practices. That's why we're sharing the best practices for using your handheld x-ray device.
Initially designed for military usage, handheld X-ray devices have become increasingly popular in dental practices over the years. With this increase, some questions have been raised about the safety of handheld x-ray devices. Digital Doc's XTG Handheld X-ray can be used just about anywhere! Thanks to its rechargeable batteries, and lightweight and compact size, you have x-rays on the go. Many dentists use the XTG Handheld X-ray in their practices on a daily basis and will even bring it with them on dental mission trips. 
Best Practices for Using Your Handheld X-ray
When using the XTG Handheld X-ray device, it is important for the licensed operator to document the following information:
The device used

Reason for using the hand-held X-ray device

Number of exposures

Protection measures taken against radiation
Good practice is to document the use of handheld X-ray devices in order to allow justified usage of the devices and prevent misuse. 
Safety Measures
The concerns raised against the handheld X-ray devices have been mainly due to some inexpensive and low-quality handheld X-ray devices that lack the basic and necessary safety measures and even fail to meet the standards set out by the FDA. 
In order to avoid these safety risks, you should consider buying the  XTG hand-held X-ray from Digital Doc. Digital DOC is the market leader in quality intraoral products and has an experience of more than 19 years. XTG is an advanced device which produces high-quality X-ray for both film and digital sensors. 
The Benefits of Using the XTG from Digital DOC 
Has a shoulder strap for the ease of the operator and gets better results

It comes with a rechargeable battery, which eliminates the need for wires and enhances its portability utility

It's safe & simple to use for technicians

Gives out low patient exposure

Has a camera-like operation, which makes it very easy to operate 

Very easy to learn and use, and you can contact our Digital DOC team to provide you with all the operational information you might need

Portable for multi-operatory use

Possesses the capability of film, sensor, and plate. Thus making it very versatile.

There is no installation required for it to operate, so it saves you a major cost, time, and effort. 

60 kv frequency X-ray

The image quality is very high
Handheld X-ray devices have many benefits, but they need to be used properly to minimize safety risks. The best way to avoid these risks is to use a good quality handheld X-ray device,  from a trusted and quality manufacturer, like Digital DOC.