Get Patients to Use Dental Benefits Before Expire
Getting Patients to Use Their Dental Benefits: Tips From Our Intraoral Camera Team
A new year offers us a fresh start and limitless potential for transformation. For dental clinics that have contracts with dental insurance, the new year means that patients' benefits have been reset. Thus, they are ready to face dental procedures that they either postponed or couldn't afford last year.  As the year comes to a close, many dentists are faced with the issue of convincing patients to accept and finish dental treatment in a use it or lose it fashion. Today on the blog, Digital Doc, creators of the best intraoral camera, discuss how to get patients to use their dental benefits before they expire. 
Education of the Patient
Your team should be educated to educate patients on the dangers of postponing treatment. Additionally, it's great to educate your patients about their dental insurance.  Because dental problems seldom improve with time, we should encourage patients to undergo treatment as soon as possible. This is in order to avoid additional painful, lengthy, and costly therapy. 
As a result, when patients are taken to the front desk to check out, the front desk must be informed of each patient's treatment plan, coverage information, and remaining yearly limit. Our handheld dental X-Ray team suggests that each person at your front desk is educated enough so that they can:
1) First discuss their insurance benefits with patients and explain what happens if they don't utilize them.
 2) Then, they can describe what might happen if dental care is delayed.
3) Finally, they can schedule the appointment on the spot. 
Use It Or Lose It Communication
Also, sending a newsletter to patients keeps them up to date on the basics of their dental insurance. 
This allows you to reach out to a wide number of patients and educate them about the benefits of finishing treatment as soon as possible. Additionally, it allows you to encourage them to use their benefits before they expire.  Most patients are unaware of their dental insurance advantages. Thus, it is the obligation of dental clinics to inform them that if they do not use them, they will lose them.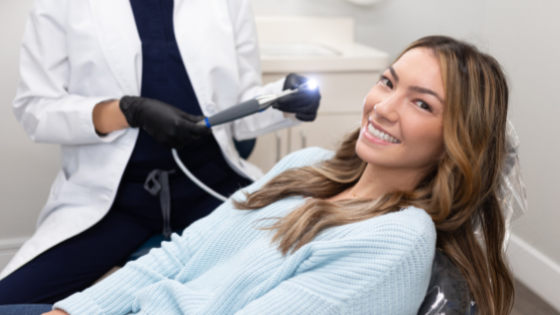 FSA/HASA Accounts
Reminding patients that they may utilize their unused FSA benefits is important. They can use these for treatment in addition to their dental insurance benefits is key. This is a terrific method to motivate patients to complete pending treatment. Make your patients know that they will lose their flex spending dollars if they do not utilize them, just as they would lose their dental insurance benefits. This is essential in convincing patients to accept pending treatment regimens.
Offer Same-Day Treatment
Dr. Ben Kacos, Shreveport dentist, implements offering same-day treatment to encourage patients to use their dental benefits. During his team's morning huddle, he focuses on patients with unused dental benefits and ongoing treatment plans. We agree with this strategy. Make this known to your patients and urge them to stay. One strategy to persuade them to remain is to tell them that doing the therapy now would not only save them an extra visit, but will also allow them to use their insurance benefits before they expire.
Also, inform people who have reached their yearly deductible and still have treatment to finish that this deductible will be applied to treatment next year because it will reset with their coverage. This information will be useful to your patients. Also, utilizing top-quality dental technology like our transilluminator can be a helpful tool to show patients the dental work they need. 
Maximize All Communication
Prepare to communicate the benefits of having the therapy done this year to patients who have long treatment plans. They will be able to use the unused benefits and save even more money the following year when they resume their treatments. Maximizing communication in your office by effectively discussing this with patients is key to getting them to use their benefits.