Intraoral Camera as
Marketing Tool
Using an Intraoral Camera as Marketing Tool
From the very beginning, intraoral cameras have been used to communicate with patients better. Many doctors are using their intraoral cameras to pitch or even convince patients to start treatment. Although intraoral cameras are designed to help doctors increase case acceptance, the intention behind your treatment plan is what really matters. In this article, our Digital Doc team discusses the dos and don'ts for using intraoral cameras as a marketing tool. 
Getting Patients to Say Yes to Treatment
Of course, we want patients to say yes to our treatment plans. More "yesses" equal more money, right? But, it's pretty obvious when doctors are seeing patients as customers rather than people. Although intraoral cameras are an excellent diagnostic tool, they're exactly just that- a diagnostic tool. Some doctors will take it a step too far and use their dental cameras solely as a communication tool, pushing patients' treatment. In turn, patients feel like they're being "sold" treatment and will ultimately go elsewhere. 
Building Rapport and Trust With Patients
Building patient rapport and trust is key to a higher case acceptance rate. How do you avoid breaking trust and strengthen patient rapport? The short answer is to stop overtreating. Patients are excellent at reading body language, so they can tell if you simply care about them or racking up treatment. Instead of using your dental camera to show the patient their mouth, use it to help show you their mouth.
Ask your hygienist to take notes while you examine the patient's smile. Call out the different dental concerns you see, such as cracks or decay, and address them with your patient afterward. Your patient will, of course, hear the conversation between you and the hygienist. When talking to your patient about these concerns, show them the pictures you took during the examination. At the end of their appointment, they will feel less like a customer and more like patients.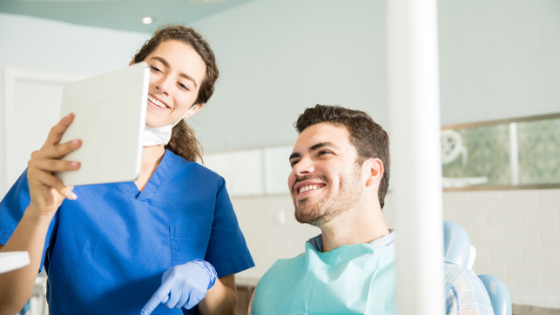 When to Use Your Intraoral Cameras
Are you the type of doctor who only uses their dental cameras during emergency appointments? If you are, you're missing out on a lot of treatment opportunities. Dental cameras need to be in every operatory and used at every appointment. Not only is this a great way to track patient's oral health, but it also makes dental insurance claims go a lot smoother. Our friend Dr. Eastham, a dentist in Grand Junction, CO, agrees that intraoral cameras are excellent diagnostic tools, and you should be using them every day. 
Investing in Advanced Dental Technology
Does your intraoral camera collect dust in a drawer? If so, you have the wrong dental camera. Dentists should always invest in premium advanced dental technology. It should deliver high definition images every time and be easy for every team member to use. Digital Doc LLC provides doctors worldwide with the best dental technology on the market. Are you interested in learning about our new IRIS X80 Liquid Lens Auto-Focus Intraoral Dental Camera? Contact Digital Doc today to schedule a complimentary virtual demonstration.