Replacing Your Wall Mount X-Ray
Benefits Of Switching To A Handheld X-Ray
When it comes to dental x-rays, there are two main types of machines: stationary and handheld. Both have their benefits, but more and more dentists are moving towards handheld machines like the XTG Digital Doc. There are several reasons for this shift, but the biggest benefit is the increase in speed and accuracy. With a handheld machine, the dentist can take an x-ray in a fraction of the time it would take with a stationary machine. This not only saves time for the dentist but also reduces the amount of time the patient has to spend in the dental chair. In addition, handheld x-ray machines produce clearer images than their stationary counterparts. This is because they use a smaller focal spot, less blurring around the edges of the image. As digital x-rays become more common, dentists increasingly turn to XTG handheld machines and Digital Doc to meet their needs.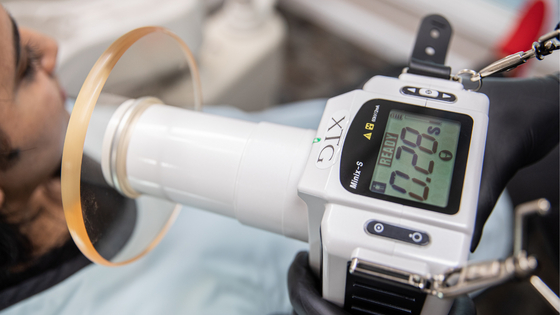 XTG Handheld X-Ray Are Lightweight And Portable 
The XTG is a high-quality, portable x-ray that is perfect for multi-operatory use. It is lightweight and easy to move from room to room, and its compact design means that it fits perfectly in any operatory. The XTG handheld x-ray produces high-quality images that are easy to review and share. You can be confident in its quality and performance for each patient that sits in your treatment chair. Contact us today to learn more about the XTG and how it can benefit your practice!
Fast And Efficient Dentistry 
Digital Doc's XTG is the #1 portable x-ray that reduces FMX time by half. Forget about leaving your patient's chairside! XTG allows you to stay in the room during ALL radiographs, saving time and improving the quality of care. The handheld X-ray equipment can be used in less than 20 minutes, so you don't have to worry about long wait times. Plus, the faster processing speed means you can get your results back sooner. Whether in a clinical setting or performing out in the field. Our friends at High desert, the best dentist in Grand Junction, believe that Digital Doc's XTG is the perfect solution for all your mobile imaging needs.
Contact Digital Doc Today!
As a dental practice, we understand the importance of staying up-to-date on the latest technology. Digital Doc is a leading provider of dental technology, and we are committed to helping our customers provide the best possible care for their patients. We offer a wide range of products, including our LUM transillumination, dental sensors, and intraoral cameras. In addition, our team of trained professionals is always available to answer any questions you may have. Contact Digital Doc today to learn more about how we can help you take your practice to the next level.