Yankee Dental Congress 2022
One of the biggest events in the dental community is here! Digital Doc is proud to attend the Yankee Dental Congress 2022 event on January 27th to 29th. Our advanced dental technology team will be offering three exclusive deals to members attending the event.
Why Attend the Yankee Dental Congress
To start, the Yankee Dental Congress is New England's biggest gathering of dental professionals looking for the greatest dental continuing education, dental goods, services, and resources. As follows, our modern dental technology company looks forward to this event every year. We love to connect with dentists around the country, helping them to grow and enhance their practices. As an attendee, you and your team have the opportunity to learn and connect with industry leaders. So, what are you waiting for? Get ready for roundtable styled discussions, demos, and so much more. 
Digital Doc Offers
As stated above, our team is ecstatic to offer dentists three exclusive Digital Doc offers on our products. 
Purchase the XTG Handheld X-Ray and Receive $200 Customer Cash
Our XTG Handheld X-Ray is the most popular handheld x-ray, cutting FMX time in half. Don't leave your patient's chairside! XTG allows you to remain in the room for ALL radiographs, saving time and enhancing the entire experience for the patients. Buy our portable X-Ray at Yankee Dental Congress and receive $200 customer cash!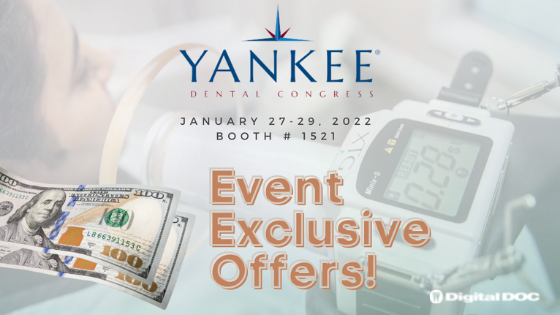 Buy Two X80's & Receive A LūM Free
Our IRIS X80 is the intraoral camera you've been looking for in your practice! The X80's liquid lens focusing keeps everything crisp and clear, allowing you to show patients rather than explain them what's going on. Buy two for your practice and receive a LūM free. 
Our LūM transilluminator has well-proven sub-enamel illumination diagnostic procedures, expanding the detection capabilities of America's top intraoral camera, the X80. This little, simple program enables immediate recording as well as detection of all discoveries.
Together, these products pair together at a $3,495 value. Save big today at the Yankee Dental Congress.
Receive a $200 Cash Rebate for each Blu X-Ray Sensor purchased in Q1 2022!
Lastly, we have an offer on one of our newest products, the Blū X-Ray Sensor. This sensor provides users with crystal clear imaging to truly enhance their practice and patient experience. For each Blū X-Ray sensor you purchase, you'll receive a $200 cash rebate.  
We can't wait to see you at the Yankee Dental Congress! For any questions about our products, please contact Digital Doc today.